« June 2006 | Main | August 2006 »
July 25, 2006

Singing in the Widow Jane Mine!!
July 30, Rosendale, New York
Posted by cat at 10:54 PM
Oman Deal Passes By Narrow Margin
OFTA passed by the narrow margin of 221-205 in the House of Representatives this past Thursday. But, the fight over the deal has had significant political and policy effect. This vote on top of last year's CAFTA vote will have serious repercussions come election time in November. A number of candidates challenged their incumbent opponents to oppose the deal but only 28 of 232 Republicans did so, while only 22 out of 202 Democrats supported the retrograde deal.
Continue reading "Oman Deal Passes By Narrow Margin"
Posted by cat at 06:47 PM
Posted by cat at 06:46 PM
July 23, 2006
The Winter / Spring 2006 edition of the "Lay of the Land" newsletter is now availble in print and online. (A minumum donation of $25 keeps you on the print mailing list)


Contents include:
- VACATION: DAUPHIN ISLAND On Display at CLUI Los Angeles - LANDSCAPE INFORMATION CENTER PROGRAM Changes public face of the CLUI - CLUI KIOSK ON VIEW IN NEW YORK CITY Whitney museum providing space through May 2006 - THE HENRY FORD EXPERIENCE A vertically integrated interpretive assembly line - DIXIE MALL R.I.P.? The "Best Dead Mall in America" is coming down - THE LANDSCAPE OF CORN And when Not A Cornfield is a cornfield - LOS ANGELES GROUND ZERO A study of east coast vs west coast - SEEKING PERSPECTIVE A visit to the Getty Villa - CITY INSIGHT: ST. LOUIS Spanning the middle of America - CEMENTLAND A landscape of possibility - REPORT FROM NEW ORLEANS November 5, 2005 - two months after Katrina - FEMA TRAILERS Giving a new meaning to re-creational vehicles - LIFE ON THE LINE AT DERBY LINE, VERMONT Part of the ongoing CLUI investigation into the borderlands of the USA - STATE IN FOCUS: ALABAMA The CLUI falls into the deep south in 2005 - UNUSUAL REAL ESTATE LISTING # 6384 Johnston Island
Posted by cat at 10:52 PM
July 22, 2006
Carnivore -- new Version 2.2 now available
From -> alex galloway
Carnivore -- new Version 2.2 now available http://r-s-g.org/carnivore new features include the ability to log packets to a text file and the ability to record and playback capture sessions. questions/comments/suggestions always welcome.. + + + Version 2.2, July 2006 + moved java class files around so that there is a "core" engine responsible for all ... [more]
Carnivore is a surveillance tool for data networks. At the heart of the project is CarnivorePE, a software application that listens to all Internet traffic (email, web surfing, etc.) on a specific local network. Next, CarnivorePE serves this data stream to interfaces called "clients." These clients are designed to animate, diagnose, or interpret the network traffic in various ways. Use CarnivorePE to run Carnivore clients from your own desktop, or use it to make your own clients.
Originally from unmediated, ReBlogged by cat on Jul 22, 2006 at 04:44 PM
Merriam Webster USB Dictionary and Thesaurus
Remember the good 'ol days when that hundred-pound slab of text was the only way to beef up your vocabulary? Merriam Webster, a well-defined name in the business, has stuffed over 300,000 definitions and 500,000 synonyms onto a 256MB USB drive (with a couple hundred megs to spare, we understand). Aside from having the entire
dictionary
and thesaurus at your disposal, it comes with a few other tools to help proof your masterpiece: phonetic spell correction, a grammar guide, confusable function alerts -- a feature that alerts the user if there's a potential mix-up in similar sounding words -- and even a crossword puzzle solver to show that newspaper who's boss.
Originally posted by Paul Miller from Engadget, ReBlogged by cat on Jul 22, 2006 at 01:33 PM
July 20, 2006
Posted by cat at 10:55 PM
RESUME I?
Young-Hae Chang Heavy Industries , i love you! Founded in Seoul by Young-Hae Chang and Marc Voge a few years ago, the net art group, creates the most charming, amusing, poetic animated tales. Their work is refreshingly devoid of any interactivity, images, colours, all you get are just words in Monaco font and jazz rhythms.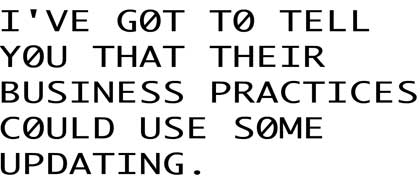 Originally from we make money not art, ReBlogged by cat on Jul 20, 2006 at 10:47 PM
The Man Behind Google Artwork
malyn writes "CNN has an article on the artist that designs the custom Google logos for holidays, special events, etc. From the article: '[Dennis Hwang] has been manipulating the six letters in the Google name into shamrocks, fireworks, hearts and goblins since shortly after he got an internship there in 2000. Company founders Larry Page and Sergey Brin found out that he was an art major in college. They said "Hey Dennis, why don't you give this a shot,"' and he has been doing it ever since."
Originally posted by timothy from Slashdot, ReBlogged by cat on Jul 20, 2006 at 10:44 PM
An Exhibition About Drawing Conjures a Time When Amateurs Roamed the Earth
"Teaching America to Draw" provides a refresher course in pencil-pushing and other sorts of sketching as a collective pastime.
Originally from NYT > Arts, ReBlogged by cat on Jul 20, 2006 at 10:42 PM
HOW TO - Make an Eyetap
"Turn an old pair of glasses and a $14 philips digital camera into an eyetap to take pictures from your perspective."
Originally from MAKE Magazine, ReBlogged by cat on Jul 20, 2006 at 10:39 PM
July 19, 2006
The Oman Free Trade Agreement (OFTA) is bad foreign policy
Bi-partisan group of legislators call on Congress to defeat Oman Free Trade Agreement (OFTA), citing national security concerns. House Republican leadership has vowed to bring the Oman Free Trade Agreement — a misguided NAFTA Expansion to the Middle East - to the House floor for a vote tomorrow, Thursday, July 20.
The OFTA would provide special access to U.S. markets for clothes made in sweatshops located in Oman - meaning more indentured workers will be trafficked from Bangladesh, China and other countries to slave away in Omani sweatshops, and more jobs will be lost here at home. OFTA is bad for the Middle East, and it is bad for the United States.
Continue reading "The Oman Free Trade Agreement (OFTA) is bad foreign policy"
Posted by cat at 11:38 AM
July 18, 2006
Posted by cat at 01:15 PM
Screening Circle was inspired by the tradition of the quilting circle: a group of people who make a quilt together, each producing small squares that are later sewn together. Screening Circle reinterprets this popular craft tradition in the context of interactive electronic media. As you draw in this circle you may notice icons changing, because other people are drawing at the same time.
Posted by cat at 12:24 PM
July 13, 2006

Curated by Michael Connor
"The self-portrait will never be the same."
Sonar2006: Digital a la Carte
CCCB/MACBA
Barcelona

Posted by cat at 04:14 AM
Buy Nothing in Chicago
Artist: Tano Location: Division Street
// had to post this because i went to this exhibit and was surprised to see it on wooster collective -- this show was a part of Trading Post, Demolition Sale, Elk No. 11 Release, cool stuff i'll post more about soon...
Originally from Wooster Collective, ReBlogged by cat on Jul 13, 2006 at 03:57 AM
iPod charger in a 9V
[erck] built an
iPod charger inside of a 9V battery
. I'm actually more interested in the two reference links he included with the project. The first is
Sijosae's gallery of headphone amps
. He's built over 130, there are other projects included as well. The second is
Ted's iPod Battery Pack
which links to almost every DIY and commercial iPod charger on the web.
Originally posted by Eliot Phillips from hack a day, ReBlogged by cat on Jul 13, 2006 at 03:53 AM
July 11, 2006

My Beating Blog is an attempt to take the journaling aspect of blogging into a surrealistic future, in which the blog author literally and metaphorically bares his heart. The artist-blogger wears a GPS-enabled Heart-rate monitor throughout parts of the day, then blogs the data along with matching personal experiences, events, and musings.
Posted by cat at 09:17 PM


This project exchanges the studio for the roads, truck stops, border crossings and cities of North America. Through the untidy weaving of politics, surveillance technology and identity construction this performance engages critique. Over time and with the combined effort of exchange participants, resistance, solidarity, and artistic critique emerge.
Posted by cat at 09:14 PM
Crochet Ice Cream, minty
Posted by cat at 09:02 PM
The Zidane head butt game
Well, it only took a day for a Zidane head butt parody game to hit cyberspace, and it's pretty entertaining a la horizontal ...
Originally posted by Ross Miller from Joystiq, ReBlogged by cat on Jul 11, 2006 at 08:57 PM
Scottish police testing metal-detecting gloves
Police in Scotland have begun field-testing a pair of tactical gloves that sport built-in metal detectors for identifying sharp objects during routine pat-downs -- and should they fail to detect a hidden weapon, they're made out of Kevlar to protect the wearer during the ensuing knife fight. Although not specifically mentioned in the source article, it seems the Scottish cops are trying out seven pairs of the
HF-1
from Adams Electronics, which are powered by regular 9-volt batteries and vibrate inconspicuously at the wrist to signify that an object has been detected. Available in either "passive active" or "dual active" configurations ...
Originally posted by Evan Blass from Engadget, ReBlogged by cat on Jul 11, 2006 at 08:54 PM
Why Marriage Equality Is A Labor Issue
Yesterday, the
New York State Court of Appeals ruled
that barring marriage for same-sex couples does not violate the State Constitution. It was an appalling ruling--but only shifts the battle from the courts to the legislature.
Originally posted by Coyote from Coyote Blog, ReBlogged by cat on Jul 11, 2006 at 08:51 PM
July 03, 2006
ccCreators
Going beyond the mix tape now, here's a new community for creative types to meet up and collaborate, all while sharing work under a Creative Commons license, as created by Marco Raaphorst of Melodiefabriek:
Originally from unmediated, ReBlogged by cat on Jul 3, 2006 at 10:01 PM
City Wipeout
Cities are filled up with our commercial culture. The city-dweller's field of vision is dominated by advertisements.
Architect and researcher Pasi Kolhonen wants to reveal with City Wipeout just how many images, texts and signs are invading our everyday environment. The installation consists of pictures which unveil an ordinary face of the city centre. The pictures are reflected one-by-one on the wall. The user interface allows the spectators to wipe the view clean of everything but the advertisements, signs or logos. All that remains is the blanket of advertising that covers the entire city.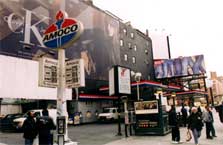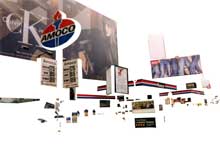 At the moment, Pasi Kolhonen is studying the effects of advertising on city space at the University of Art and Design Helsinki.
Originally from we make money not art, ReBlogged by cat on Jul 3, 2006 at 08:42 PM
July 02, 2006
Poverty Wages for Women Making World Cup Footballs
While sportswear companies rake in their profits and World Cup players and fans enjoy the matches in Germany, the Thai women who put together footballs for major brands such as adidas earn so little they can do little more than buy food. (Amsterdam Clean Clothes Campaign)

Continue reading "Poverty Wages for Women Making World Cup Footballs"
Posted by cat at 01:21 AM
July 01, 2006
Travel Folder via craftlog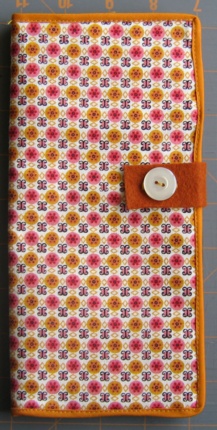 Visit Craftlog for the crafty inside of this super cute travel folder.
Posted by cat at 08:45 PM
College Art Association Announcement on Orphan Copyright
CAA has been working hard to get the US copyright law revised, to make it less risky and confusing for authors, artists, scholars, libraries, and museums to use "orphan" copyrighted works in publications and in artworks. These are works that are still in copyright but for which no copyright holder can be found. The US House of Representatives Judiciary Committee is now considering a bill, H.R. 5439, the Orphan Works Act of 2006, to address this problem. In a nutshell, if a user of an "orphan work," does a diligent search to locate the copyright owner, and is unsuccessful, the risks of using that work are greatly reduced.
Continue reading "College Art Association Announcement on Orphan Copyright"
Posted by cat at 08:38 PM