« Small World Story & The Physics of Friendship | Main | The Wealth Gap »
March 23, 2006
Africanised dandies and astronauts
Yinka Shonibare's work addresses cultural identity by juxtaposing African batik patterned cloth with the poses, idle hours and depravity of Victorian Dandies. The colourful installations reflect his interest in the long-lasting and pervasive effects of European colonialism.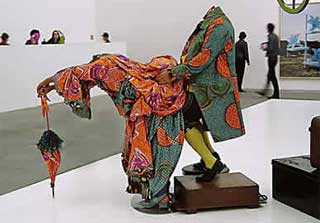 For Space Walk (image below), Shonibare silk-screened text and photographs from 1970s Philly Sound record albums. The fabrics are also adorned with the names of famous African Americans, such as James Brown, Billie Holiday, Barry White and David Hammons as well as Philadelphia sites from the days of Philly Soul.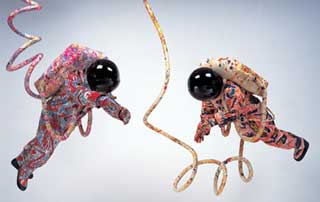 More information and images: African Arts, Fabric Workshop Museum, universes in universe (2), artnet, absolute arts, wikipedia, art blog and Tate Britain.
Originally from we make money not art, ReBlogged by cat on Mar 23, 2006 at 09:45 AM