« Poverty Wages for Women Making World Cup Footballs | Main | ccCreators »
July 03, 2006
City Wipeout
Cities are filled up with our commercial culture. The city-dweller's field of vision is dominated by advertisements.
Architect and researcher Pasi Kolhonen wants to reveal with City Wipeout just how many images, texts and signs are invading our everyday environment. The installation consists of pictures which unveil an ordinary face of the city centre. The pictures are reflected one-by-one on the wall. The user interface allows the spectators to wipe the view clean of everything but the advertisements, signs or logos. All that remains is the blanket of advertising that covers the entire city.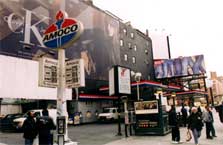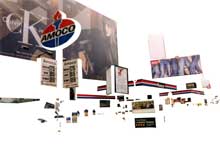 At the moment, Pasi Kolhonen is studying the effects of advertising on city space at the University of Art and Design Helsinki.
Originally from we make money not art, ReBlogged by cat on Jul 3, 2006 at 08:42 PM